On Orangeburg's green rolling hills, 90 immigrant teens joined major league soccer player Alexander Callens at the New York City Football Club's upstate training facility on July 16th. The event gave the children, born in Central America and based, for now, in New York City, a day to forget past terrors witnessed in countries they fled along with current fears instilled by Trump administration threats of deportation. 
Catholic Charities NY, the New York City Football Club and Goya, a longtime supporter of Catholic Charities and its food programs for the hungry, sponsored the event, busing the teens from New York City's hot summer streets to the cool breezes of Rockland County. Mr. Callen, a Peruvian footballer and New York City Football Club central defender, joined professional New York City Football Club trainers and coaches to practice jump cuts, inside hooks and shoulder feints with the teens before breaking into teams for matches.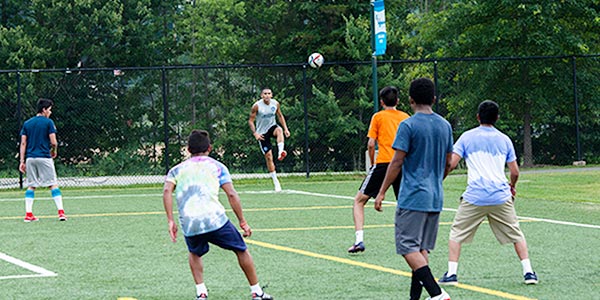 "The idea," said Elvis Garcia Callejas who helped organize the event, "is for immigrant and refugee children to experience what is like to be in a soccer facility of a professional team and to be trained by a professional soccer coach." On the field, the enemy is just the opposing team," Mr. Garcia says.  "The children forget the violence and suffering that forced them to flee their countries.
Mr. Garcia is a migration counselor with Catholic Charities NY's Refugee and Migration Services Unaccompanied Minors Program.  A soccer player and immigrant himself, Mr. Garcia helped found a soccer team, F.C. Union, back in 2014 for immigrant and refugee children he helps.
As for what the teens liked about the event, one boy summed it up for everyone.
"I liked it all," he said.