The St. Augustine Project marks a very special moment in the South Bronx. The project is part a commitment to build 1,000 units of affordable over the next 10 years. It embodies a commitment by Cardinal Dolan and Msgr. Kevin Sullivan, the executive director of Catholic Charities, to the most vulnerable and needy among us, in this case, the Morrisania section of the Bronx. The project encompasses 112 new units of housing including 35 units for clients of Catholic Charities Beacon of Hope House, our brothers and sisters with a history of mental illness who are ready to live on their own in the community.
Catholic Charities will be there to educate, accompany, and support these folks. The full range of human and social services through case management will be at the ready. 
St. Augustine Apartments is a new affordable and supportive multi-family building in the Bronx. On the site of the demolished St. Augustine's Church, this new 12-story development will fit seamlessly into the context of the neighborhood, as the church did. The massing will follow the footprint of the old church; the highest portion will face south, characterized by a glazed facade providing spectacular views and becoming a beacon light at night. Amenities include on-site parking, a landscaped terrace, a community room, and bike storage. A large portion of the ground floor fronting Fulton Avenue will include supportive housing offices for Beacon of Hope, a Catholic Charities affiliated agency, the community/multi-use room and laundry. The ground floor receives direct daylight and has access to a landscaped front yard including a playground for resident children. Below-grade space will include the bike storage and mechanical rooms.
A community room will be made available to neighborhood residents. The design also includes a sustainable green approach that represents rebirth, health and vitality in the community. The building will be enrolled in the NYSERDA Multifamily Performance Program (MPP), and as a NYC HPD funded project, it will comply with the Enterprise Green Communities certification program. All yards are landscaped with native, drought resistant plants and trees.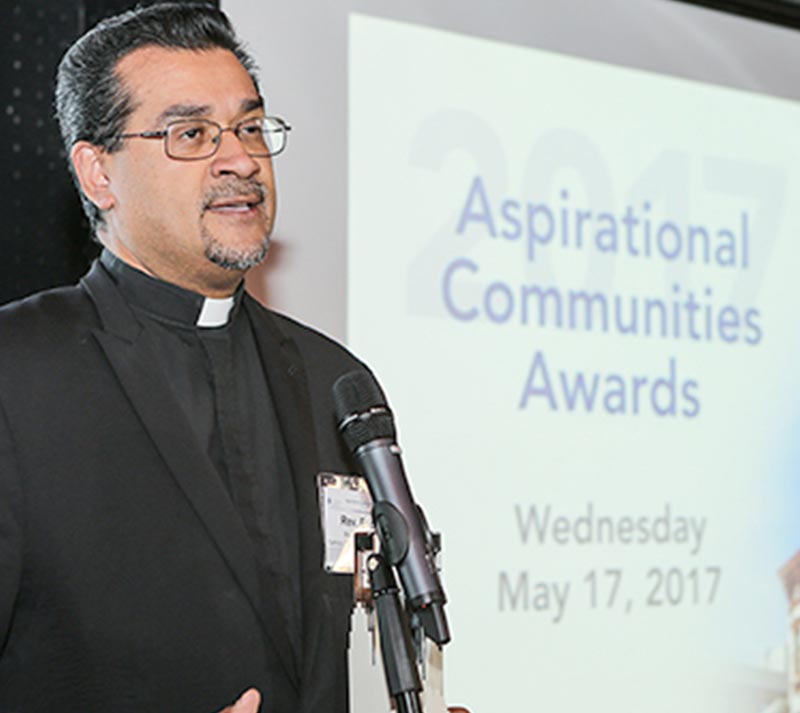 Please allow me a personal moment. I am a son of St. Augustine. Fourteen years ago, on this very date in the morning, I was ordained to the priesthood. And at this very hour, I was celebrating my first Mass. This church community, in this most impoverished area of our United States, transformed and guided the life of my family and my life. And as the community did then, this new community living in this new home will transform and guide many others into a bright, hope-filled future.
I am excited beyond words; the Association is excited beyond words for the mission and spirit of St. Augustine lives on. We can't wait to see the smiles and excitement of the families and individuals who can call this building, "home."
Find out more about Catholic Charities work to create affordable housing in New York City